Coin Tracker Build Extends Currency Support
A new Coin Tracker build is available for download. The focus is on extending currency support, providing a wider choice of currencies for quoting crypto asset prices and profit/loss reporting. Also included is a wizard for switching between currencies.
The Coin Tracker reference currency is set from Options | Reference Currency as explained here:
Setting the Coin Tracker Reference Currency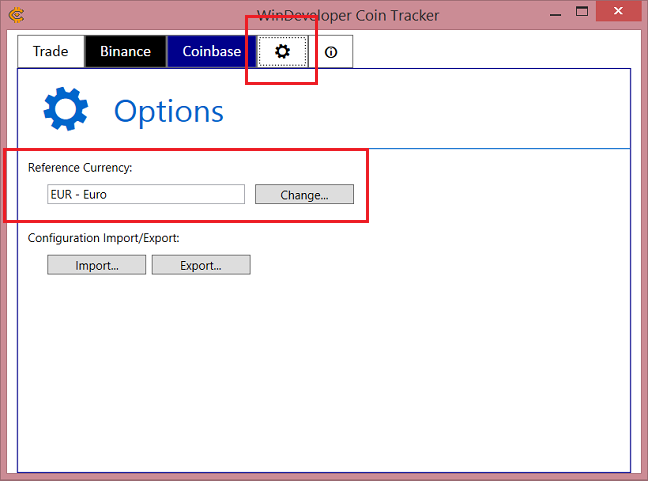 When switching currencies we can now convert any assets that were configured using the previous currency. Here we have a number of options including that of applying an exchange rate: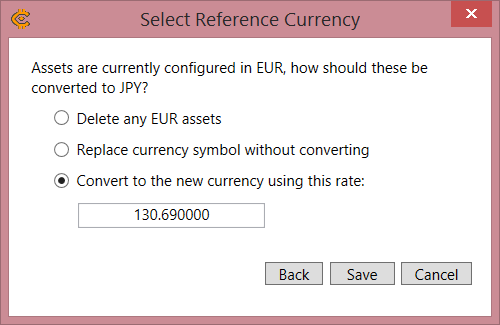 The complete list of supported currencies:
USD - US Dollar
EUR - Euro
GBP - Pound Sterling
CHF - Swiss Franc
CNY - Chinese Yuan Renminbi
JPY - Japanese Yen
RUB - Russian Rouble
CAD - Canadian Dollar
AUD - Australian Dollar
BGN - Bulgarian Lev
BRL - Brazilian Real
CZK - Czech Koruna
DKK - Danish Krone
HKD - Hong Kong Dollar
HRK - Croatian Kuna
HUF - Hungarian Forint
IDR - Indonesian Rupiah
ILS - Israeli Shekel
INR - Indian Rupee
ISK - Icelandic Krona
KRW - South Korean Won
MXN - Mexican Peso
MYR - Malaysian Ringgit
NOK - Norwegian Krone
NZD - New Zealand Dollar
PHP - Philippine Piso
PLN - Polish Zloty
RON - Romanian Leu
SEK - Swedish Krona
SGD - Singapore Dollar
THB - Thai Baht
TRY - Turkish Lira
ZAR - South African Rand
Version Information
This information applies to Coin Tracker v1.0 build number 1.0.005.19. If already installed, you can verify the current build number from the Coin Tracker interface under the About category.