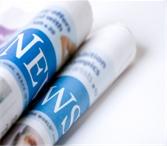 Keep up with the latest updates from WinDeveloper by subscribing to the RSS feed. Supply the URL that follows to your RSS reader/news aggregator: http://www.windeveloper.com/news/rss.xml
Wed, 08 May 2013
Setup of a recipient block list, blocking recipients not present at the Address Book, Tarpitting and testing the filter using telnet.
Tue, 30 Apr 2013
A few weeks ago Microsoft released Cumulative Update 1 for Exchange 2013 RTM. Unfortunately with this update Exchange broke the transport agent interface. For this reason a new IMF Tune build is now available for Exchange 2013 Cumulative Update 1.
Tue, 16 Apr 2013
Setup of sender block lists, blocking of emails having an empty sender and testing the filter using telnet.
Tue, 09 Apr 2013
IMF Tune build 6.1.103.11 is available for download. This build is not introducing any new features. Instead we decided to focus on the engine performance. We reviewed the IMF Tune engine code and looked for ways to make it process emails faster.
Wed, 27 Mar 2013
In this video series we go through the spam filtering functionality available in Exchange 2013 RTM. In this part we install the anti-spam agents, configure the list of internal SMTP Servers and learn to work with list parameters.
Wed, 13 Mar 2013
On-access disk anti-virus scanning is known to interfere with disk access operations that other applications perform. Here we describe the IMF Tune Server directory structure explaining which disk directories are to be excluded from aggressive anti-virus scanning.
Sat, 02 Feb 2013
Recalling emails from Outlook didn't change much over the years. We just updated our popular HOWTO article that walks you through email recalling in all Outlook versions from 2013 to 2003.
Wed, 30 Jan 2013
IMF Tune is future ready, supporting the latest Microsoft technologies. Many Organizations are not in the process of deploying Exchange 2013 yet. Nevertheless we wasted no time in getting our anti-spam solution ready for your next move.
Wed, 30 Jan 2013
This article discusses various upgrade/migration scenarios you may encounter when deploying IMF Tune v6.x. In both Upgrades and Migrations our primary goal is that of retaining the configuration settings of the old IMF Tune installation.
Mon, 26 Nov 2012
This video demonstrates how to recall emails directly from Exchange 2007/2010 Outlook Web App OWA. We install the WinDeveloper Message Recall OWA extension and see how to block email delivery in just a few clicks.