Spice up your Emails with HTML in O365 Mailer v3
We are pleased to announce the immediate availability of O365 Mailer v3. This brings a new HTML template editor that allows us to significantly beautify our emails.
Click here to start downloading version 3 now!
We have all the functionality you would expect from an HTML Editor. At the page properties we can set margins, line spacing and background colour. Directly from the toolbar we have all the typical styling functionality.
Font selection; text foreground and highlight colours; bold, italics and underline styling; indentation; text alignment; bullets and numbered lists; are all directly available from the toolbar.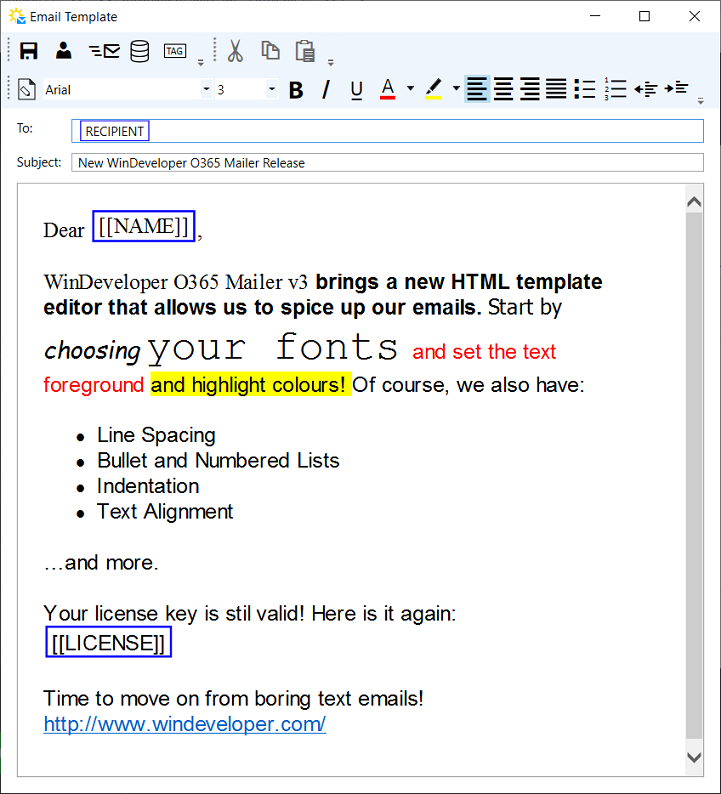 The templatization functionality in version 3 is identical to that of earlier versions. We pick a source database from which we get the information to customize individual emails. Next, we put tags anywhere within the email subject and body. These tags act as placeholders for the data to be inserted.
Licensing
We have been giving free 1year licenses for the O365 Mailer for some time and the offer is still on! If you are already running the O365 Mailer, just upgrade to the latest version and the current license key will be automatically carried forward.
Time to move on from boring text emails!
Version Information
This information applies to WinDeveloper O365 Mailer build number 3.0.006.27. If already installed, you can verify the current build number from the configuration interface under About.