Coin Tracker Fix for Retrieving Foreign Exchange Rates
Earlier this week we identified a problem with retrieving the current foreign exchange rates. The Coin Tracker regularly refreshes these rates from a 3rd party service provider. A change in the exchange rate interface caused the Coin Tracker to fail, leading it to only show price information readily available from the Crypto Exchanges.
Here is what the Coin Tracker looks like when failing to read exchange rates: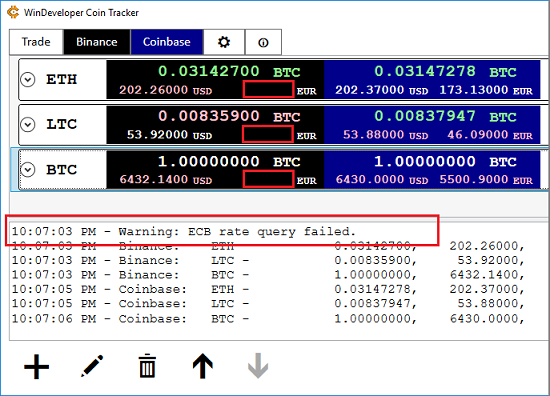 The red boxes highlight missing information and a warning that flags the exchange rate retrieval problem. This update fixes this issue and thus we recommend upgrading to the latest version.
Version Information
This information applies to Coin Tracker v1.0 build number 1.0.009.13. If already installed, you can verify the current build number from the Coin Tracker interface under the About category.